What is Rookie Boot Camp?
The Rookie Boot Camp (RBC) is a paid internship program developed by ProductDock and first organized in our offices in Doboj in 2019. We are happy to say that since then, we've had five successful rounds of the program, four in Doboj and one in Novi Sad, where each brought us at least two new crew members.
Who is the RBC for?
The Rookie Boot Camp internship program is designed for young people who are just starting their careers after earning their engineering degrees. With our own experience in mind, we created the internship we wished we had when we were starting our career – a training program that provides a skill set needed for young engineers to find their way around daily tasks in an IT company.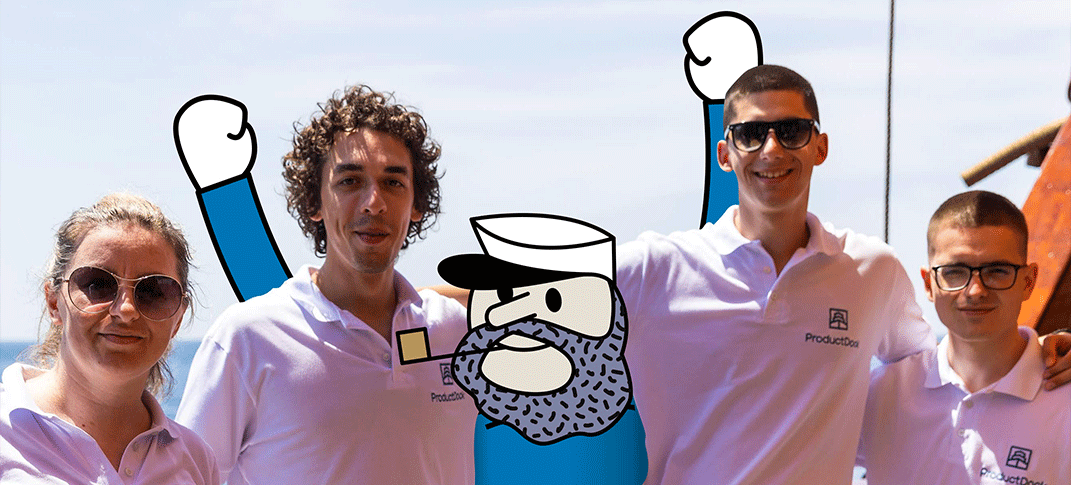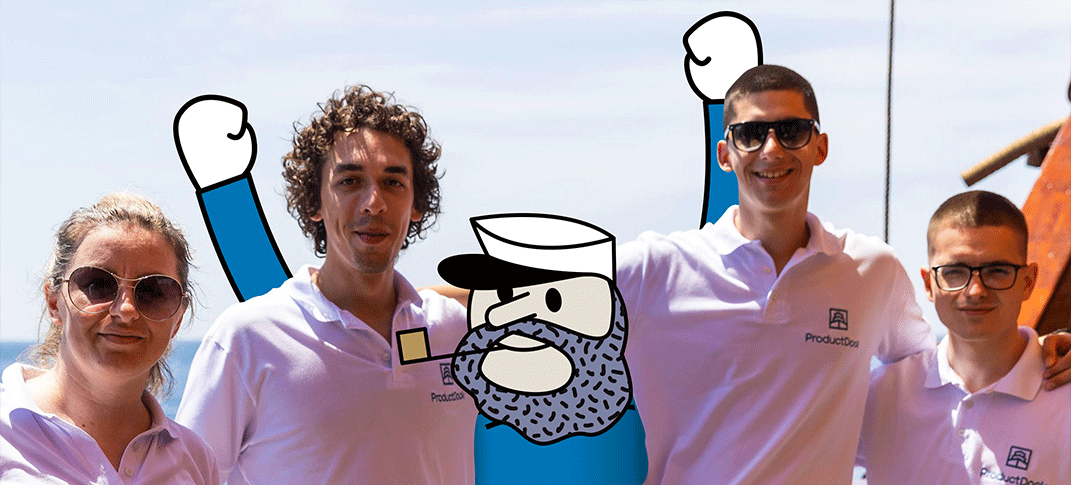 And now, a word from our rookies from Novi Sad, who did their internship at the beginning of last year.
How did you find out about Rookie Boot Camp, and what did you think about the selection process? 
Nenad: "I saw the ad for the internship on Facebook. As for the interview process, I really enjoyed it, especially the talk I had with Milica, who was later our mentor." 
Nataša: "I was actively looking for an internship, and I heard about the RBC from an employee from ProductDock, so I decided to apply. It was my first-ever interview, so I didn't know what to expect. There were some technical questions I did not expect, but I managed to answer them well, and, in the end, I had a great experience.
Dušan: In the autumn before the internship, I applied for a junior position in the company, but there were no positions then. However, they told me that the internship would open soon and that they would call me. When it actually happened, I was really surprised. Overall, it was a pleasant, positive experience.
Vladimir: I was looking for internships, and a friend told me there was an internship at his brother's company. I applied the day before the deadline and got an interview. Overall, one positive experience.
Your RBC project involved creating the Library app for the PD crew. Can you tell us more about your role on the project?  
Nenad: We all worked on a bit of everything, which was great because it enabled us to learn a lot. I found DevOps quite interesting, and I'm glad I was able to try my hand at this. 
Nataša: I started the internship with solid knowledge from the university, but the RBC really helped me gain a deeper perspective and expand my horizons, and I'm grateful for it.
Although those three months were quite tiring, I'm glad we had a chance to work on such a project that included a bit of everything you can have on a project, which ultimately helped me realize that I lean towards the backend the most.
Dušan: We all had the opportunity to go in-depth on a certain topic for two to three weeks. What I did the most was cyber security, and I really learned a lot in this domain. Although we did both the backend and the frontend, the focus was more on the frontend during my studies. Now, thanks to the experience I gained during the internship, I realized that I'd like to focus more on the backend and DevOps in the future.
Vladimir: The fact that Milica, our mentor, was there for us full-time gave us great freedom to try everything we wanted. I'm currently doing the backend on the project I'm on, and I'm finding myself in it. During my studies, I found both the backend and frontend interesting, so everything we did on the Library app was fine with me.
What was your favorite part of Rookie Boot Camp?
Dušan: I liked that we had the opportunity to go through the entire process from the design sprint to the product launch. Also, all the workshops we had were very thorough and well-planned. I'm not sure how many people have the opportunity to go through the whole process during their internship as we had. And, not to forget, the whole PD crew is open and there to help out, which I also appreciate.
Nenad: The team structure was great, and we cooperated smoothly. The thing I liked the most was the process of going through a product life cycle, which was very useful.
Nataša: The workshops were my favorite part. They were held by other PD crew members who talked about the things they worked on in their projects, which were all entirely new to us. This helped us get a better perspective of who does what and motivated me to pursue those topics further and research them in depth. Later, we had all these people to help us out and jump in if we got stuck while implementing some of the things they taught us – which was truly incredible. Not to mention that all of them were there for us to help us whenever we had a problem or doubted ourselves by telling us about their experience and that it's perfectly okay to feel that way because they, too, felt the same once.
Vladimir: The full-time mentor and the product manager we had on the project meant a lot to me. Also, as Nataša mentioned, the workshops were phenomenal and useful.
What kind of project are you working on now?
Vladimir: I am currently working on a project in the e-commerce industry, the automotive sphere, where I work as a backend developer. 
Nataša: Vladimir and I are on the project together, but I do code maintenance in a different sphere.
Dušan: After the internship, I got a project where I worked as a DevOps. We had direct contact with the client, which was really interesting. Since both Nenad and I are in-between projects, we focused our time on learning Kubernetes, which we didn't have the chance to cover in-depth during our studies or the internship, so it's a great opportunity.
Nenad: Everything Dušan said, we work together.
What would you say was the key takeaway from your RBC (the knowledge you acquired, teamwork, problem-solving…)?
Nataša: For me, it would be – a realistic representation of what awaits me at work. You can't get this kind of experience when you work as a junior. By participating in the RBC, we got the experience of everything that one project includes, but with one invaluable addition – having someone really commit to us to teach us. 
Vladimir: Given that we came without experience, the internship turned out to be excellent for the same reasons as Nataša mentioned. Also, in addition to Milica, who was our full-time mentor, we were surrounded by many experienced people, real professionals who were all ready to help us whenever we needed them.
Nenad: The key takeaway for me would be the variety of technologies we encountered in those three months and the chance to familiarize ourselves with different things we didn't get to try at the university. And, if you get a job as a junior, there is a question of when you'll experience all that in your career – this way, we got everything right away.
Dušan: Professionals who are always available and want to help. Communicativeness and openness of people also really helped.