As we embark on a new year, it's natural to look back and reflect on the past. January is a time for introspection and taking stock of our achievements from the previous year. By looking back on our successes and challenges, we can set ourselves up for a better and more productive year ahead.
Our first Logout Days event was awesome!



The highlight of the past year was certainly Logout Days. We hosted our first onsite community event in September of 2022 after months of planning it. Getting to bond with the product community was just what we all needed, and it was inspiring to listen to everyone share their experiences and ideas. Last year's Logout Days theme was Digital Product Development, and we carefully chose the topics for our three sessions. Our main moderators were Bruno Raljić with his open discussion about Product Development Experience, Milica Živkov with a Design Sprint workshop and Nemanja Vasiljević with a Market Validation workshop. The time in between was dedicated to broadening and strengthening the rest of our personal skills, so we had three well-being sessions in the format of one-on-one consultations – Psychological safety at the workplace with Anja Radoičić Vučićević, Soft Skills with Josip Bošnjaković and Financial Wellbeing with Karolina Herbut. We are so happy we had a chance to meet all the lovely people at the Logout Days event and connect with them over a topic that means a lot to all of us. Stay tuned, as the 2023 Logout Days event is already in the works! 
Our redesigned website is here.
As ProductDock is growing and deepening its core values, we felt it was time for a refresh. As part of our ongoing efforts to improve the user experience and improve our online presence, we've recently completed a website redesign. Our goal for this transformation was to streamline the user experience and make sure that everyone can easily find the information they are searching for. We also implemented a chatbot feature for everyone that likes to get answers quickly.
We had lots of collaborations and opportunities to meet you!
We started off strong in March, with attendance at the KONTEH job and internship fair and the ConEEct Students Networking Day.
We enjoyed meeting many bright students and answering their questions about our internship program and the employment opportunities ProductDock. We prepared lots of exciting content for the participants at both events, including a little guessing game for KONTEH and a quiz at ConEEct with some cool prizes.
Igor Rajnjak was a guest speaker who talked about the evolution of Roadmaps from 1.0 to 3.0. We've compiled all of the most important takeaways from this podcast into a downloadable PDF on our website, so check it out if you missed it.


The ProductDock crew from Bosnia and Herzegovina, Germany, Portugal & Serbia landed in London to participate in the Digital Transformation Conference. The event gave them a chance to meet with the decision-makers shaping the digital transformation future of societies across the globe.
It'a a tech conference focused on a software development community, held in Banja Luka. We were present at our booth, and it was THE place to be. Our speaker Boris Janjanin did an amazing job talking about Clean Architecture and Code. INIT also organized The Road to Init, a series of warm-up lectures before the event. As a part of this initiative, our Nemanja Vasić gave a great speech about IdeaVim.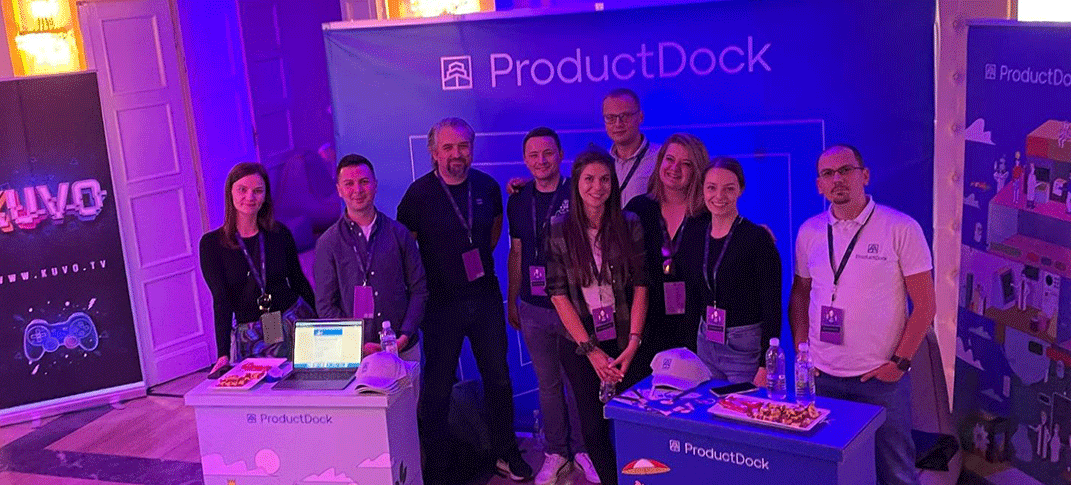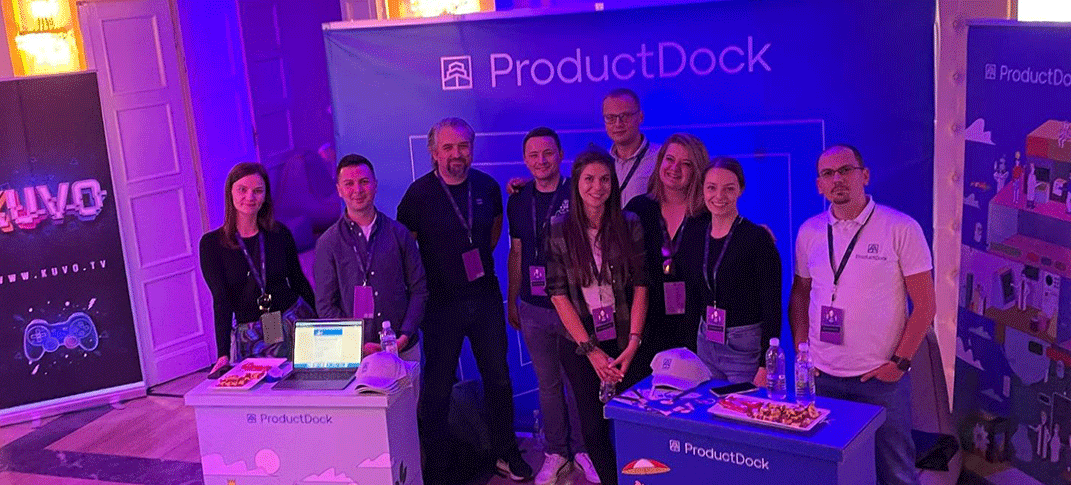 In October, ProductDock sponsored the ConEEct Students event for the second time in a row.
At the main event, Nemanja Vasić presented his interactive game, "How Curious Are You?". We had another appearance at the main event; Zoran Jelić spoke about his UX/UI designer role in a panel discussion called "My Dream IT Role."
ConEEct Students Networking day in November was a complete success.
We talked about our Rookie Boot Camp internship program, did a quiz about programming, and had lots of fun with the students.


We concluded the year with a successful sponsorship of
ReactWeek
.
The event focused on React and Frontend topics and featured a series of lectures and workshops. We consider these topics highly important, so we were thrilled to support this event.
The past year was very successful for us on many different levels, and we enjoyed every minute of it. We can't wait to continue our efforts in 2023 and see what the next year brings!